Alaska is one of the last bastions of nature at its most unspoiled. there are wide open spaces and air that simply sparkles. It boasts abundant wildlife that will take your breath away. The scenery begs to be explored, with hiking trails and snow-covered peaks that provide some of the best views on Earth. The challenge of Alaska is to find that perfect spot to begin exploring.
One of those places to put on your Alaskan exploration bucket list must be Icy Strait Point. This is one of those semi-hidden gems known to those who disembark from the many cruise ships that dock just outside of the town of Hoonah.
A tour we think you'll love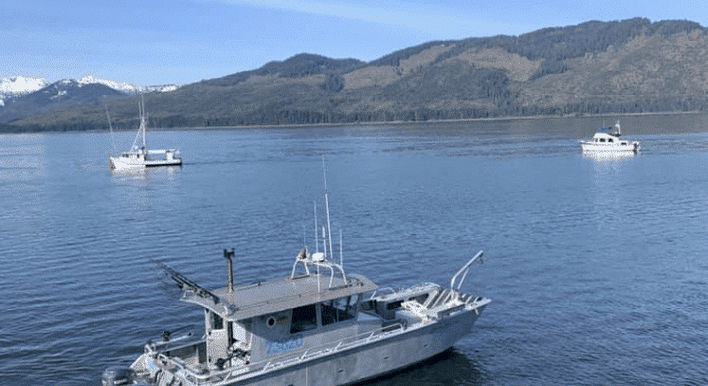 Saltwater Fishing Adventure
From $320
View tour
The native Tlingit Corporation Huna Totem owns Icy Strait – and they take great pride in their culture and their responsibilities as custodians of the unspilt natural environment that surrounds the area.
Here one can experience an Alaska that is completely unspoiled. tour groups are taken to areas where native Brown Bears and uniquely Alaskan flora and fauna flourish. But Icy Strait Point has a variety of attractions that will mesmerize not only those in search of natural beauty but those who seek adventure and adrenaline in one of the most authentic destinations in Alaska.
So what can one expect from Icy Strait Point?
Firstly, for whale watching Icy Strait is perfect. The sight of the majestic Humpback whales off the coast of Hoonah is one of the highlights of any visit to Icy Strait Point. Visit before September, after that these majestic oceanic mammals migrate South to more promising waters. The friendly folk at Icy Strait Point will be more than happy to introduce a great Captain to explore the rich waters off the coast.
There is also the attraction of seeing the Brown Bears on Chicagof Island. You are almost certain to see these magnificent creatures due to their sheer number. In fact, no less an authority as National Geographic has called this 'Bear Island' due to the concentration of the animals on the island – which is estimated at around 1-2 bears per square mile.
It is not necessary for those who enjoy culture and history to stray far from the Town of Hoonah which is at the center of activity at Icy Strait Point.
Here one can visit the Yaakw Kihidi Cultural Center. That visit will give a fascinating insight into local culture and traditions. Your visit will be hosted by one of the tribal elders and you could even leave with a working knowledge of Totem Pole carving.
For many people one of the main attractions of Icy Strait Pointis easy access to some of the richest salmon and Trout waters in the world. For fishermen (and women) Icy Strait Point is about as close to paradise as one can get. Fly fishermen will delight in the streams that are part and parcel of the Chichagof Island experience. While visiting Icy Strait Point ask about a guide who will introduce you to the wonders of fishing for Dolly Varden, trout, Pink salmon, Cutthroat Trout, Coho, and Steelhead. This is one of those places where fishing memories are made.
For those who are in search of an adrenaline-filled day out, there is always the attraction of the world's largest Zipliner. Take a trip to the top of Hoonah Mountain and enjoy any one of six 5,330 feet high zip lines, each of which drops 1330 feet toward the beach at Icy Strait Point.
For those with an itch to stretch their retail muscles a trip to the historic cannery cannot be more highly recommended. Here you'll find 12 Alaskan-themed stores that supply everything from jewelry to wonderful native foods and home decor.
Icy Strait Point is one of the Alaskan destinations that will never fail to delight. For nature lovers, it is the ideal destination. For those who simply want to recharge tired mental and physical batteries, it offers delight, calm, and wonder in equal measure.